Front Page News at TGAI
LANta Partners with TGAI!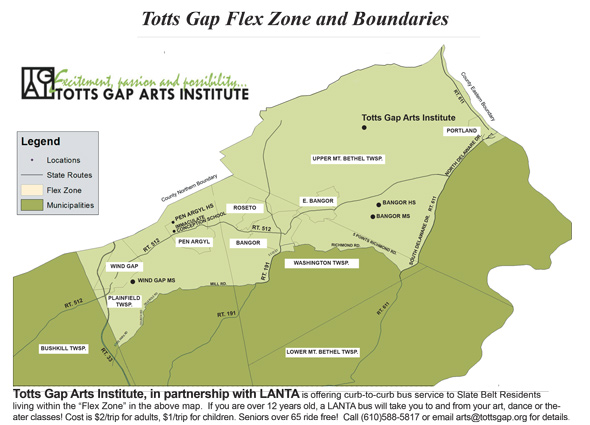 Totts Gap Arts Institute and LANta have partnered to bring "Flex-Ride" to all students of the Slate Belt. Rides will be available to and from the community arts center in Upper Mt. Bethel Township. The pilot program will offer $1 per trip service to students 12 years and older. Adults pay $2, and Seniors 65 and older with a proper ID ride free.

We've been working to increase access to arts programming on a number of levels this year: providing scholarships, reducing prices to members and now, providing inexpensive transportation to those that need it. With Summer Camps and other programs and workshops coming up, the timing couldn't be better!

Students will also be able to use the service to participate in the Heritage Mural program. This service is available along the 611/512 corridor, and covers much of the Slate Belt. Buses will run from 8:30 am to 9:30 pm on TGAI class days.

For more information, call TGAI at 610-588-5817, or email This email address is being protected from spambots. You need JavaScript enabled to view it..
---
Bird Watching at the Institute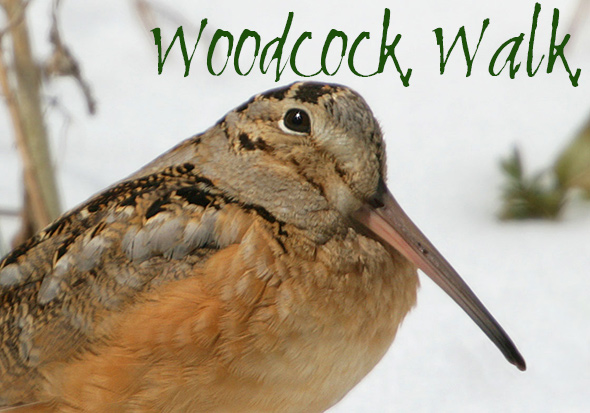 Join us for a short walk to witness an interesting courtship display of a local breeding bird.  The American Woodcock is related to the common sandpipers found along the shore, but nests in overgrown fields and young forests in Northampton County.  In mid March they arrive and stake out territories by calling and performing what has been called the "Sky Dance", flying upwards in a wide spiral for several hundred feet until returning to the ground to start over again.  Dress for the weather and meet at the institute at 7pm on Thursday, March 26.  We will take a short drive to the site and be finished by 8:00.  If the weather is questionable that evening, call the institute before 6:00 to make sure the program is still on.
 Dan Zmoda has lived in PA for over 30 years.  He works at The Easton Home as a Maintenance Supervisor.  He has been involved in bird watching since college, where he received a BS in Environmental Studies from Stockton State College in New Jersey. He does research studies and surveys on bird migration.
---
Vendors Wanted!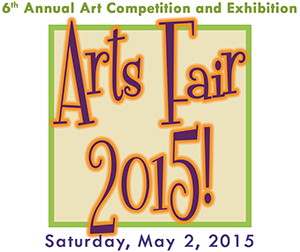 With our Annual Arts Fair fast approaching, we are now accepting applications from interested vendors. If you or someone you know would like to reserve a space for the day, please download an application at
TottsGap.org/VendorContract2015.pdf
.
---